Experience vitamin packed serums with our facial essence formulas to balance and illuminate refreshed skin.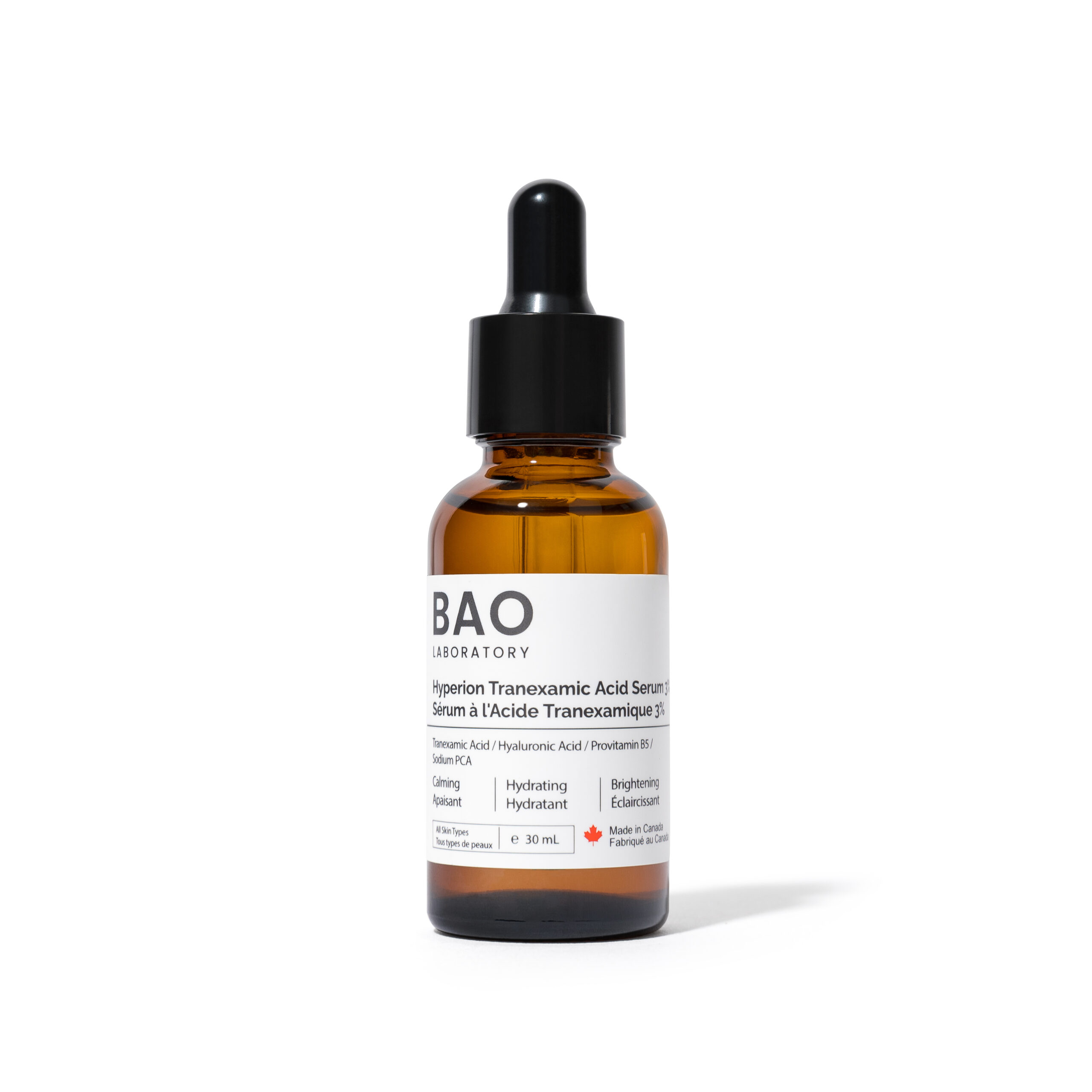 Calming, Hydrating, Brightening This specially curated serum boasts a formulation featuring 3% Tranexamic Acid, coupled with Provitamin B5 and Hyaluronic Acid. It's designed to imbue your skin with a soothing sensation, profound hydration, and a radiant glow. Targets Acne, Dark spots, Dryness, Uneven skin tone Highlighted Ingredients Tranexamic Acid is an effective skincare component, works to address skin discoloration issues. Its skin-brightening properties help reduce the appearance of hyperpigmentation and age spots, promoting a more even and radiant complexion. Hyaluronic Acid is a natural component and crucial for skin hydration. With its remarkable water-retention properties, it not only prevents skin dryness but also enhances a plumper and healthier skin appearance. Provitamin B5 stands out with its extraordinary moisturizing and nourishing abilities, infiltrating numerous skin layers to safeguard irritated skin from dehydration and offer soothing care. Sodium PCA is a naturally existing amino acid, serves as a guardian for the skin's internal moisture barrier. This rapidly-absorbing, water-friendly moisturizer deftly penetrates the skin, binding water molecules to prevent dehydration effectively.
Take your free
personalised skin
quiz Now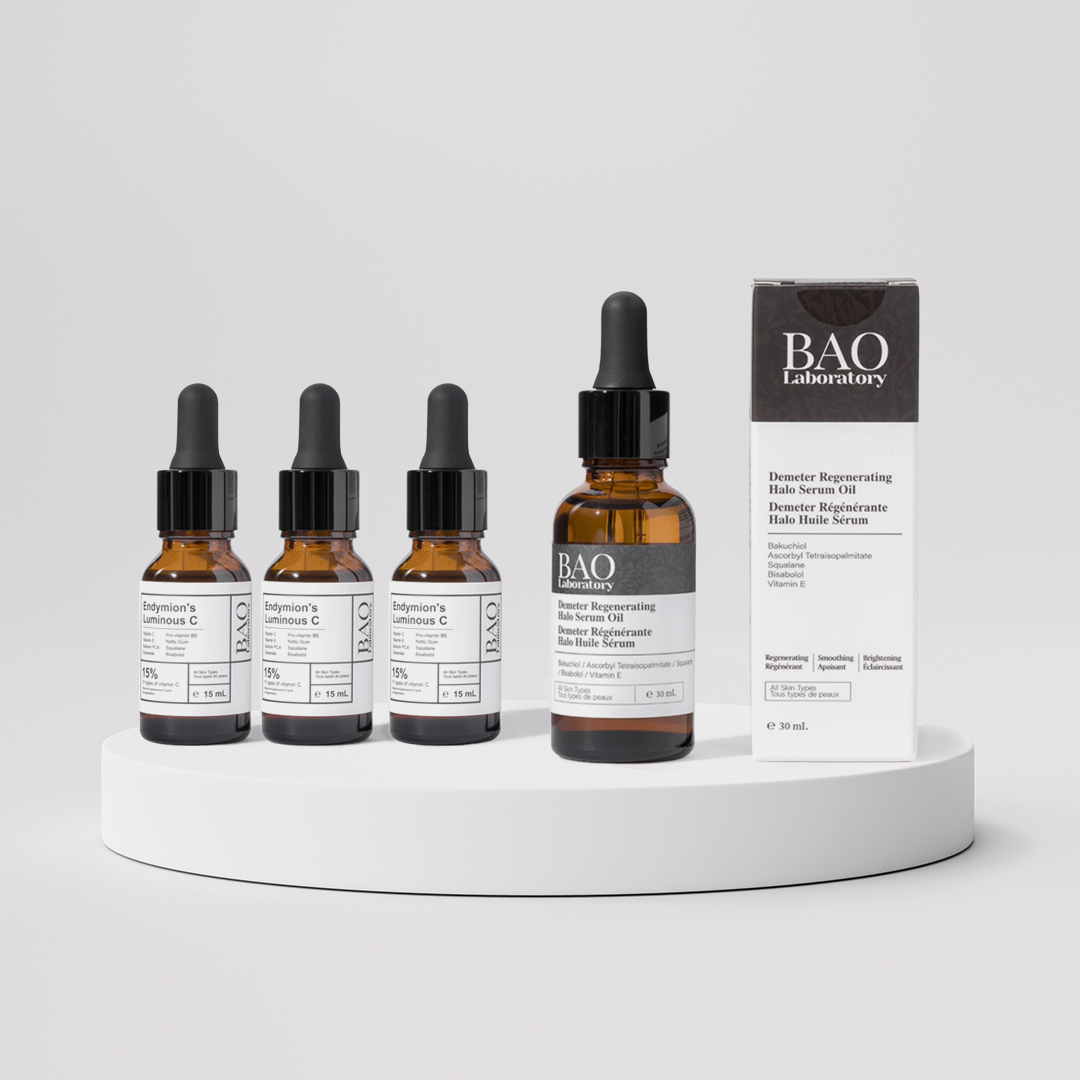 Brightening. Regenerating. Smoothing This Brightening Day & Night Skincare Set includes:

Endymion's Luminous C(45ml) (Morning Routine)
Demeter Regenerating Halo Serum Oil(30ml) (Night Routine)

Endymion's Luminous C 15% concentration of 11 types of vitamin C, 2 types of vitamin E, pro-vitamin B5, and ceramide in small molecule essence fights the look of dark spots & discoloration, and brighten your skin from the outside in. Demeter Regenerating Halo Serum Oil Formulated with 2% Bakuchiol, this natural alternative to retinol, can significantly reduces the appearance of fine lines & wrinkles, pigmentation and UV damage. Clinical Study Results 28 days of studies were conducted with 31 adults, aged 28–54. 100% agree skin radiance, firmness, and elasticity are improved, and the appearance of fine lines and wrinkles is diminished. 97% agree dull skin tone is improved. The serum visibly improved skin elasticity by 26.64%, skin firmness by 20.13%, skin hydration by 18.94%, and reduced crow's feet by 25%. 100% agree skin sensitivity was improved, and the serum was non-irritating. Targets Dark spots, uneven skin tone, dullness, pores, loss of firmness Highlighted Ingredients  Vitamin C(15%): A potent antioxidant, Vitamin C can help to reduce UV damage, lighten dark spots, and promote collagen production, accelerate the renewal of skin cells, enhancing their metabolism. Also stimulating collagen synthesis, boosting immunity, and improving signs of aging, it's the gift that keeps on giving. Bakuchiol(2%): Natural alternative to retinol. Sourced from natural seeds and leaf derivatives of the plant Psoralea Corylifolia, it can help to promote collagen without irritating your skin. Bakuchiol can significantly reduce the appearance of wrinkles, pigmentation, and UV damage while enhancing brightness and elasticity.