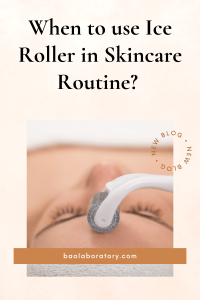 It's time to say goodbye to cucumbers when you have an ice roller in your hand. If you are someone who is confused about when to use ice roller in skincare routine. You don't have to worry.
 Here we have addressed all your queries regarding the use of ice rollers.
Ice roller should be the first thing following the morning breath and face wash.
Let's get started!
Appropriate Time to Use Ice Roller
Interestingly, ice rollers can be used at any step of the skincare routine. However, experts have suggested the following minor differences in using ice rollers at various steps of the skincare routine.
1. Ice Roller Before or After Washing Your Face
Before – Using an ice roller before washing your face has no harm. You can do it while sipping your tea or coffee in the morning to get a good start to your day.
After – Experts highly recommend using the ice roller when you are makeup free and just after cleansing your face. So it will be more effective and give your face a better, quick, and even more lasting appearance.
2. Ice Roller in Morning or Night
Morning – It is preferable to use an ice roller in the morning before applying any kind of cosmetic.
Night – You can use an ice roller at night after cleansing your face to get a comfortable sleep.
3. Ice Roller Before or After Skincare
Before – Ice roll before skincare to avoid any irritation while doing makeup.
After – After your skincare routine, you can ice roll to give your makeup a subtle look. 
4. Ice Roller Before or After Serum
Using an ice roller before applying the serum, moisturizer, or any toner is preferable.
5. How Often to Use an Ice Roller in Your Skincare Routine?
You can use your ice roller every day for 3-5 minutes, immediately enhancing your appearance.
However, the results last for a few hours only post-treatment. According to Dr. Khetarpal, "it's a temporary improvement in the overall texture and skin color."
 If you are ice rolling after applying the skincare products, give it 5-10 minutes.
Steps of Ice Rolling in Skincare Routine
Before performing the skincare rituals, grab an ice roller and start using it in the following manner:
Step#1: Identify the puffy or irritated areas on your skin. Use an ice roller on them first.
Step#2: Gently set the roller against the skin and roll from the inside out. Here the goal is to find out what feels good.
Step#3: Start rolling from the bottom of your neck to the top.
Step#4: Put it on the chin and gently move the jawline towards the earlobe.
Step#5: Now, it's time to roll from the nasal bridge to the temple of your face.
Step#6: Place the ice roller under your eye and sweep it outwards to the temple.
Step#7: Last but not least, roll it over your brow bone and the forehead.
Step#8: Since you are done with the massage, clean the roller with an alcohol pad.
Step#9: Keep the ice roller in an air-tight plastic bag till you need it again.
You are good to go. Carry on your skincare routine.
P.S. Don't put too much pressure; roll it moderately. The ice roller has done the job perfectly when the puffiness has lessened, and the redness has gone.
Benefits of Incorporating Ice Roller in Your Skincare Routine
As some people use ice cubes or cucumber slices to treat irritated skin instead of eating them, this process can become messy. Therefore the better substitute for this is an ice roller made of water and gel, which is quite handy. It is supposed to help with redness and irritation.
2. The Best Treatment for Eyes
If one has a sleepless night due to stress, a night after drinking, or even you are a tired mom. Just take out your ice roller and rub it on your under eyes; it will cure the puffiness and instantly make you feel awake and fresh.
3. A Natural Way to Tighten Pores
The skin becomes firm, and the pores get tightened and minimized when an ice roller is used bare face. Moreover, the makeup looks flawless if the ice roller is used before putting it on.
Ice roller is an awesome soother. It would make your skin feel calm after any harsh skin treatment. Instead of getting multiple ice packs on your face, get an ice roller; it's a fantastic after-wax treatment.
5. An Instant Skin Brightener
When you massage your skin with an ice roller, the blood vessels compress, eventually making the skin look brighter.
Wrapping the ice cube in a piece of cloth and then putting it on your pimple is just a hustle. Instead, get an ice roller and roll it on your pain-full spot; it relieves the pain and makes them less noticeable by reducing redness.
7. Stimulate the Lymphatic System
Through an ice roller, one can get a lymphatic drainage massage, draining excess fluid in the bloodstream and reducing muscle tension. As a result, the face swelling lessens.
How to Increase the Durability of Your Ice Roller
To make anything last long, one needs to take care of it. One can take care of the ice roller by cleaning it regularly.
There are two fundamental methods of cleaning your ice roller.
Get a microfiber towel. They are affordable, readily available in supermarkets, and work well as a makeup remover towel.

Take a bowl of water, add a few drops of your favorite body wash liquid, and mix it well.

Dip the microfiber towel in the bowl.

Take it out and squeeze it well.

First, wipe the handle of the ice roller and gently pat it around the hinges.

Rinse with water and then put it on a plain, clean, dry surface, e.g., tissue paper or towel, to dry.
If you don't have a microfiber towel, you can substitute it with cotton balls.
Another way to clean your ice roller is with cotton balls and alcohol. Add a few drops of alcohol to the cotton balls, then wipe them all over your ice roller.
 Using alcohol will not only clean but also disinfect the tool.
What to do if the ice roller produces friction and makes weird sounds?
If your ice roller makes a squeaky sound when rolling it on your face, try to put a few drops of any facial oil at the hinges. It works like magic!
When should I use the ice roller frequently?
Best to use it frequently in the summertime
Who can typically use it?
An absolute solution for Ladies in their thirties or even twenties to maintaining their skin.
Why should one opt for an ice roller over a jade roller?
Jade roller is just a simple roller like any other roller that doesn't have a long-lasting cooling even if kept in a refrigerator overnight. In contrast, the ice roller contains water and gel, which makes its cooling effect last longer.
There is no specific time to use ice roller in skincare routine.
You can use it at any time, anywhere. We have provided you the preferable timings above, suggested by experts.  
Moreover, we have told you the benefits and steps of doing ice rolling.