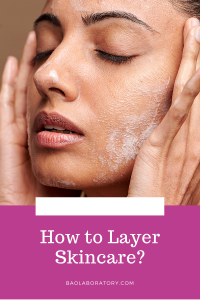 How to layer skincare? That's the question that we all have to add to our minds when going for a new & organic skincare product every time. So does the order matter? Let's be honest, the order does matter and it isn't something you would randomly figure out.
Why Does the Order of This Routine Matter?
If we talk about anything in like, it has a proper order to follow from your morning routine to your daily tasks all have a routine. In case your routine throughout the day gets disrupted it does affect your whole day.
Similarly, skincare specialists find the order crucial if a skincare routine is mainly to ensure that your skin gets the maximum benefits out of each product that it gets.
We can also understand this phenomenon by knowing that our skin's job is to keep things out but on the other hand natural skincare products that we apply mostly have ingredients that we want the skin to absorb.
Nonetheless, a very small amount of ingredients get to pass through and get to penetrate. Though having to know how to layer skincare can solve this problem while giving you the best result you could get on your skin.
Before you get to know how to layer skincare, there are a few things that are worthy of discussion, things that you wanna keep in mind while going through your skincare routine. The first step is to keep your skincare routine simple.
Most of us are in a rush to have better results and buy complex products to speed up the process which ultimately results in damaging our skin. Many of the products even have to wait on the skin anywhere from five to thirty minutes before moving on to the next step to ensure proper absorption of the product.
If your skincare has a lot of steps then it is recommended to wait for at least a minute after applying the next product. This will help in identifying any sorts of reactions that the product has on your skin.
Lastly, it is recommended to listen to your skin and what it needs wherever you go for a new skincare routine as every skin is unique in its way.
Since every skin has its sensitivity to ingredients it is advised to always consult a dermatologist to prevent any adverse reactions on your skin.
It doesn't matter if your skin is dry, sensitive, or oily, one general rule of the thumb is to layer your formulas from lightest to heaviest. So here is the proper guide on how to layer skincare.
The very first thing you would want to do in your skincare routine would be to cleanse your skin. It doesn't matter if you are carrying your skincare routine on a day or a night. One should always start by washing their face.
This is to make sure that your skin is free from all sorts of make-up and dirt. This will help the products in your skincare to fully penetrate through your skin to get absorbed in the skin barrier. While layering your skincare products at night, it is recommended to go for a double cleanse at night.
This can be done by using a cleansing oil, one product that we would recommend is the Lotus Squalane Healing Facial Oil. This facial oil will help you get rid of makeup and sunscreen. After applying our lotus squalane healing facial oil feel free to cleanse your skin with a cleanser.
One of the major steps in your skincare routine after cleansing would be exfoliating your skin. This helps remove dead skin cells from the surface of the skin and promotes healthy skin texture.
One of the physical-chemical exfoliants that can be used is the AHAa and BHA better known as alpha-hydroxy acid and beta hydroxy acid.
It is recommended to exfoliate twice or thrice a week to have brighter and more hydrated skin. You should also avoid retinol while exfoliating.
This step is optional but recommended if you are familiar with toner. All you have to do is gently rub a few drops of toner and it's all done.
If you are looking for a toner that has been made free from all sorts of chemicals. The toner that will surely have you renew, rejuvenate and restore your skin then our recommendation would be Dionysus Elixir Toning Serum.
This toner will do all the jobs of a standard toner along with boosting your skin's collagen production and metabolism. The toner is also amazing at eliminating dead skin cells.
The next step on how to layer skincare would be having a sheet mask. After you are done with exfoliating and cleansing, you should know what your skin needs.
The main objective of a sheet mask is to restore the skin barrier and deal with a variety of skin concerns.
You can use a Hydration sheet to add moisture to your skin or an Anti-aging sheet to promote collagen production while giving your skin a firmer look.
Though if you are from the side of the world that believes that mask sheets are useless for your skin. Then you should consider buying Ginseng Root Ferment Elixir Mask Set.
Why do we recommend this over standard sheet masks? Well if we compare the premium sheet mask to this mask set, you will surely get better results.
The elixir in the mask set will do it all under just one purchase from reducing the appearance of tiredness to creating an even skin tone and ultimately giving the skin a healthier look.
5. Take Care of Your Eyes before Moisturizing
The last two steps of your skincare routine should be applying eye cream, then moisturizing your skin completely. One recommendation of eye cream would be the Intuition Eye Serum which would nourish, and moisture your under the eye area while getting rid of the dark circles.
The hyaluronic acid in the serum also boosts your hydration while giving your skin a plumping look. Then the last step in your skincare routine would be moisturizing your skin. It doesn't matter if you are carrying the routine during the day or night, moisturizing is a must.
If you want to boost hydration and get rid of your dry skin, then it is recommended to apply facial oil. For the night, the Midnight Mirage Antioxidation Facial Oil is there for your skin, the oil is loaded with several fatty acids that are essential for the skin and give it a softening effect.
While for morning routine Endymion's Luminous C is the one your skin needs as it holds all the essential vitamins that help the skin with moisturizing and also helps to regain from the damage caused by the sun.
Knowing how to layer skincare is an important aspect of your skincare. If you can get everything all right then the chances for your skin to have a ravishing look are quite high. Nonetheless, make sure you trust the whole process of your skincare routine as it is tiring but is worth all the wait.